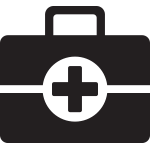 When a claim is processed, you will receive an Explanation of Benefits (or EOB for short) explaining how the claim was processed. This document is very important as it will detail what benefits have been paid, and what benefits have not been paid - so if there is an balance oustanding outstanding that is your responsibility, this will be shown on the EOB.
You can access all your claims online, and obtain copies of all of your EOB's through MESA:

If you have not registered before, please follow these steps to register your account:
Click on the Sign Up Now link to Register
Select "Member" for the type of user
Enter your email address, then click "Continue"
Enter Certificate Number (ID Number on your ID Card)
Then enter your First Name, Last Name, and Date of Birth (mm/dd/yyyy), then click "Continue"
Select the appropriate matching record, then click "Continue"
Enter your requested Username, Password & Password Confirmation, Security Question, and Security Answer, then click "Continue"
Complete the Electronic Authorization Signature and click Continue
Click Go To Login Page
What is MESA?
MESA stands for Member Enrollment Self-Service Access and is a web portal used to access an individual's information concerning claims and explanation of benefits. Now, when a claim is processed, you will receive an email letting you know a new EOB is available for you to access and download. You simply log online to track claims and view how the claim was processed – with no delays or waiting!
What is an EOB?
An EOB is an explanation of how your plan benefits were applied to your claims, so in other words what your insurance has paid and has not paid. Through MESA you will be able to download your EOBs which will explain any amounts you still owe, what amounts have been paid and anything you need to action (such as completing a claim form).
If you have any questions about registering or getting setup with MESA, please email us at info@envisageglobalinsurance.com