When choosing an international group insurance provider there are a number of factors that you will need to consider — not only are the plan benefits important, but also what "value added" services are available to make your life easier.
As international group insurance brokers, it is our goal to serve our clients and provide the very best assistance, service and products. To this end, we offer a number of key features and services that are exclusive to our organization and make us different from other international insurance providers:
Technology
With a dedicated team of programmers who work in-house, we have the strength to develop and grow our technical abilities. This includes:
Client Enrollment System — manage all your enrollments, issue coverage instantly.
API Capabilities — streamline the enrollment process with management through our API.
Instant Coverage — issue and send insurance documents instantly.
Digital ID card — iPhone and Android digital ID card.
Online Claims Tracking — tracking and monitoring claims online through the Student Zone.
Account Manager
All clients are assigned their own dedicated account manager, who will be on hand to assist with any items that may crop up over the course of our partnership. Your account manager will be there to help with assist cases, complex claims, and really anything that comes across your desk regarding insurance. You should not have to deal with insurance issues, that is our job!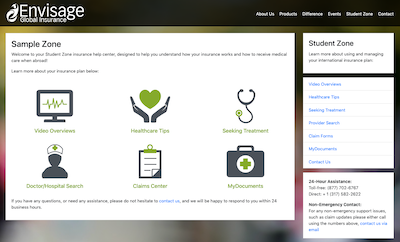 Student Zone
To provide your participants with information, advice and help with their insurance plan, we have developed the "Student Zone". The Student Zone is an online account center for all of our insurance clients that provides their participants with access to administer their insurance plan, learn more about health care, learn what to do if they need to receive treatment and much more.
Stability
Our main plans are underwritten by Lloyds of London, with whom we have had a partnership with for nearly 20 years. This long standing partnership shows the strength of our relationship, but also the stability of our plans. When looking for insurance options, you should always be aware of how long a carrier has been working in this market, but also how many carriers they have used in the previous 5 years.
Resources
We have developed a range of industry leading videos to help students understand the healthcare system and other important topics. An example of one of our videos is our introduction to the US Healthcare System. These videos are available for current clients to use in their orientation and training programs about the insurance plan.
Global Offices
With our company headquarters in the USA, and satellite offices in Germany, Mexico and China, we are ideally suited to assist you on our time zone, and have a dedicated team there to help you along the way.