Our Difference
When choosing an international group insurance provider there are a number of factors that you will need to consider - not only will the plan benefits and coverage be important, but also what "added value" services are available to make your life easier.
As international group insurance brokers, it is our goal to serve our clients and provide the very best assistance, service and products. To this end, we offer a number of key features and services that are exclusive to our organization and make us different from other international insurance providers:
Technology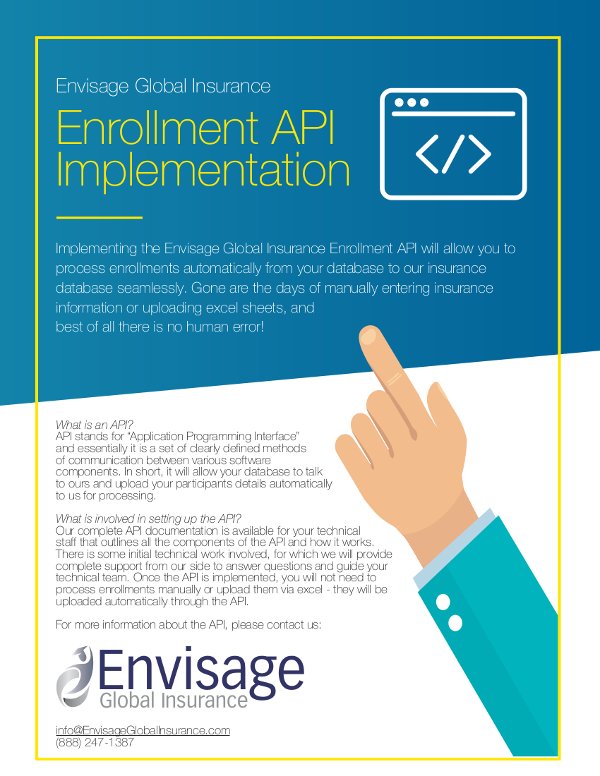 With a dedicated team of programmers who work in-house, we have the strength to develop and grow our technical abilities. Not only has this allowed us to develop our EGI client system, but also to tweak that system as clients needs and demands change over time. Our client system allows you to manage all aspects of your enrollments whenever you need to, either by manual changes, excel uploads or our dedicated API. Not only that but the system automatically generates all documentation and emails it out to participants. We also have the ability to allow participants to check and track their claims online, by simply logging into their account, they will have secure access to the status of claims, EOB's and much more.
Direct Carrier Agreement
Not only should your carrier be a top rated insurance carrier (A- or better), but you should also make sure that you have a direct agreement with the actual insurance carrier. At Envisage Global Insurance, we only work with top rated carriers, but with all our plans you will have direct access and a contract with the actual insurance carrier. This means your plan carrier cannot be changed without your knowledge - plus when you make premium payments they go direct to the carrier and not a middle-man.
Stability
Our main plans are underwritten by Lloyds of London, with whom we have had a partnership with for nearly 15 years. This longstanding partnership shows the strength of our relationship, but also the stability of our plans. When looking for insurance options, you should always be aware of how long a carrier has been working in this market, but also how many carriers they have used in the previous 5 years.
Resources
We have developed a range of industry leading videos to help students understand the healthcare system and other important topics. An example of one of our videos is our introduction to the US Healthcare System. These videos are available for current clients to use in their orientation and training programs about the insurance plan.
Global Offices
With our company headquarters in the USA, and satellite offices in Germany, Mexico and China, we are ideally suited to assist you on our time zone, and have a dedicated team there to help you along the way.
Account Manager
Having the support and assistance from your account manager is what we are known for. Our account managers are not only attentive but also quick in responding and making sure you get what you need. This assistance is what makes us stand out from the crowd, so that you have the help when you need it!