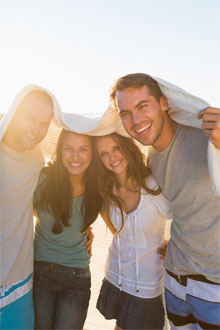 Work and Travel style programs have become increasingly popular over the last 10 years, as students realize that they can not only travel and experience different parts of the world, but also gain valuable work experience and potentially earn some money in the process. Known as Working Holiday programs in parts of the world too, these programs offer participants a unique way to really explore and travel.
When looking at insurance coverage for these groups, there are some intricacies that may not be apparent from the onset, but need to be considered to make sure the smooth running of your insurance plan. These include:
Plan Administration
With the J1 Work and Travel program in the USA as a prime example, participants will come into the USA for a short 3 to 4 month term. Therefore you need to have an insurance plan that is setup to handle this influx of participants - with strong provider networks so that the majority of medical bills can be paid within network and without the need for payment upfront and then submission of a claim. But also with process and systems that make it easy for participants to follow up with claims - such as online claims tracking ability. Without these systems, claims can linger and you will find participants have finished their program and are back in their home country trying to deal with claims from abroad which is not an ideal solution.
Policy Benefits
Work and Travel plans are usually more simplified in their plan structure as participant rarely need extensive coverage benefits due to the short term nature of their visit. The current J1 insurance regulations require $50,000 in medical, $10,000 emergency evacuation, $7,500 repatriation and a deductible not to exceed $500. In reality we would not recommend a policy maximum to drop below $100,000, and then include the standard medical benefits to include hospitalization, evacuation, repatriation and doctors visits.
Pricing
In most cases, pricing for these plans are built into program costs, so they are very price sensitive. With our approach to developing plans, we make sure you have the benefits you need and remove those benefits not required. This way, you are only paying for the benefits that you actually need and potentially saving you money on your insurance prices.
---
With our extensive work in the high school market, we have the knowledge and expertise to provide you with a plan that is not only geared to your participants, but also priced correctly. Please contact us if you would like further information.